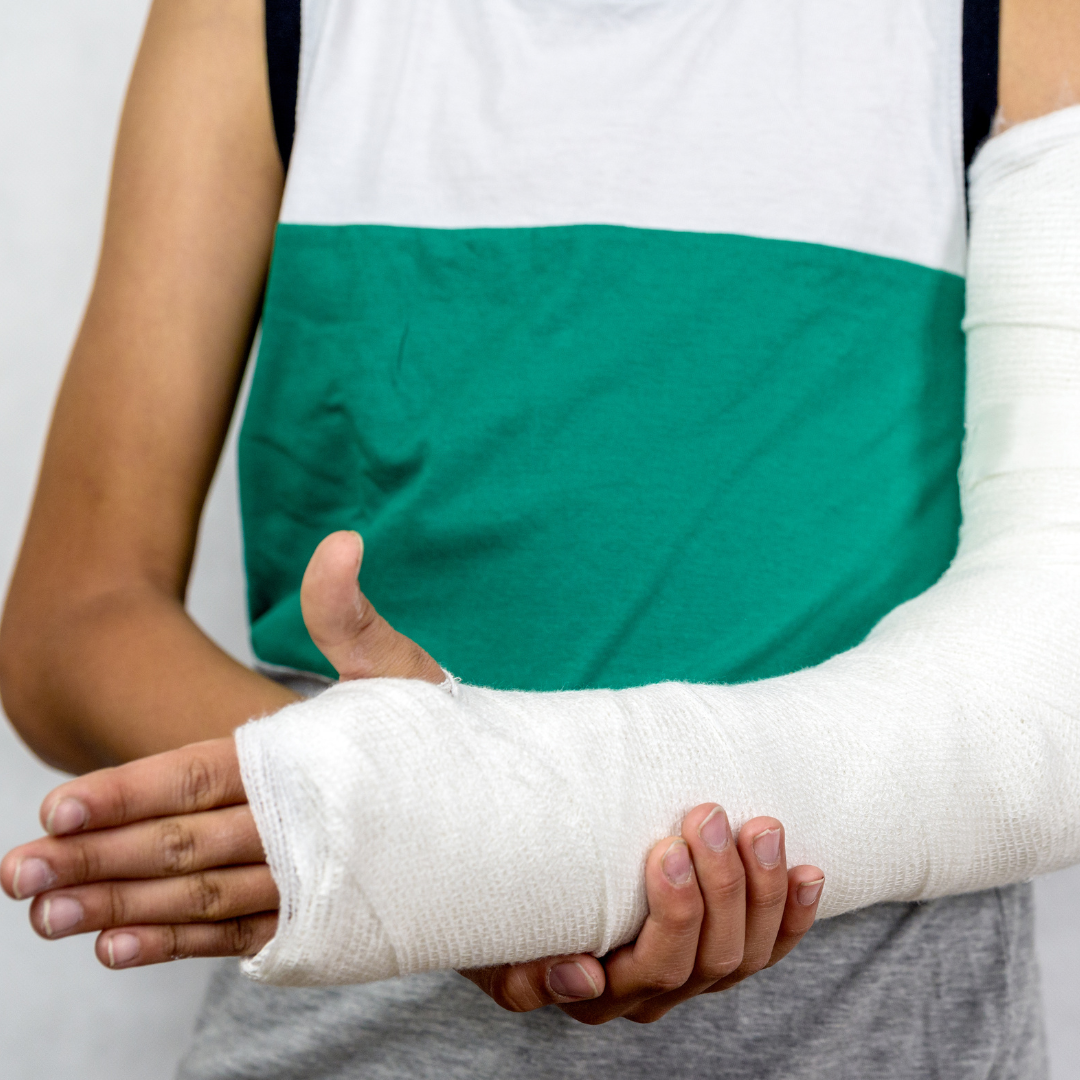 Have you heard? Trans Broken Arm Syndrome (TBAS) is rampant throughout the country! It's serious and impacting many people who are transgender and gender diverse. Is there a cure or treatment? What research is being done?
OK, OK, TBAS is not a real medical condition. But it's a real thing! Trans folks and other members of the LGBTQ+ community do face serious risks that may impact their health, mental health, and well-being.
Being trans isn't one of them.
The number one health risk for LGBTQ+ folks is the barriers they face when accessing healthcare. (Trans Broken Arm Syndrome is one of the risks, but more on that later). 
Let's unpack some misconceptions, and then talk about how to seek medical care from affirming, respectful healthcare providers.
"There aren't enough trans doctors."
That's actually a true statement. It would be great to have more doctors of all identities, genders, and racial and cultural backgrounds because it would make our medical system more inclusive.
Here's the thing: trans people don't need doctors or dentists who are also trans. Surprise! Your doctor's gender is not a qualification for receiving competent medical care.
"I'm glad you attended a prestigious medical school, Doctor, but can you tell me if you're cis- or transgender?"
[Awkward.]
Fact: There aren't enough medical practices that are LGBTQ+ affirming.
There are many barriers for LGBTQ+ youth who need to access healthcare. 
According to Nurse Journal, some of these barriers include mistrust of the healthcare system; the fear of being refused care because of perceived sexual orientation or gender identity; prior experiences of discrimination, criticism or even bullying in a healthcare setting; and concerns about confidentiality and privacy. 
For LGBTQ+ youth, a routine visit to your healthcare provider can go wrong in a myriad of ways.
When they call your name to be seen, will it be your correct name or your deadname?
Will you have to explain or qualify your name or pronouns to the receptionist when you check in? 
Will you have to correct the providers (nurses, doctors, assistants) when they use the wrong pronouns? 
Will it be a problem if your insurance card lists your deadname?
Will you get asked inappropriate questions?
Will you have to get a physical exam?
How will they talk about your body or identity?
What assumptions will they make about you?
It might just be easier to live with a presenting symptom or physical or emotional pain instead of facing what could turn out to be an uncomfortable and potentially humiliating visit. And that symptom could turn into a serious health issue, or an issue that would be more easily treated if diagnosed sooner. 
Training more medical providers to be respectful and affirming of LGBTQ+ folks is how we make healthcare more accessible for people seeking medical care.
"There aren't enough doctors that specialize in treating trans patients."
Fact: Gender-affirming care is not a medical specialty.
The majority of trans youth in Maine are not seeking hormones or surgery, so they don't require a doctor who specializes in pediatric endocrinology or gender-affirming surgery. 
Trans youth are seeking care for coughs, viruses, sprains, headaches, period cramps, etc. — just the same types of symptoms, illnesses, and injuries as their cisgender counterparts. 
Like cis- youth, trans kids also occasionally break their bones, which brings us back around to that epidemic facing the trans community.
Trans Broken Arm Syndrome references a common experience for trans folks in medical settings.
You walk into a clinic or emergency room with a broken arm. But instead of having the presenting symptom be the focus of the visit (your broken arm), somehow the doctor's attention seems to be on your gender. Is your broken arm at all related to your gender? Most likely not.
Sometimes in this scenario, trans folks are treated like curiosities, as living, breathing, "teachable moments" for medical providers. 
This might include invasive or inappropriate questions that are not relevant for the presenting symptom. In the worst cases, trans folks are misdiagnosed for serious illnesses because the provider pays more attention to their patient's gender than the presenting symptom.
All medical providers need to be trained to treat and respect the whole person. Period.
How to find LGBTQ+ affirming healthcare providers.
A respectful, affirming medical provider is a crucial component of any young person's care and support network. Though there isn't a handy list of Maine medical practices that are LGBTQ+ affirming, here are a few ways to approach your search.
Word of mouth

— Ask other parents of LGBTQ+ kids or teens for their recommendations. OUT Maine's parent and family group is one way to connect with folks on questions like this. Anti-recommendations are also helpful, meaning that you may hear about which providers are

not

affirming for queer folks.
Signs of inclusion

— When you visit the office or website, look for indications of an affirming environment, such as an inclusion values statements, or OUT Maine's posters and resources posted prominently. By the way: we have posters just for providers that affirm trans-competent care!

Providers can request these posters here

. Examine the intake forms for inclusive language such as name/preferred name, gender/gender assigned at birth, etc.
Ask about training

— Has the staff at the office or clinic received inclusion training? Has there been training specific to the treatment and care of folks in the LGBTQ+ community? And very important, has the

entire staff

received this training, including the front office personnel?
Browse Maine Queer Health

— A partnership of Maine Trans Net and the Mabel

Wadsworth Center,

Maine Queer Health'

s goal is to improve access to community health care for LGBTQ+ folks. You can browse providers by region or specialty, though there is an important caveat — the list is community-curated, meaning that it's not an official referral list.

 
Use the guidance above to determine whether your child's current medical provider is still a good fit. For the sake of continuity of care, it might be worth it to stay with them — as long as they meet your criteria.
There's no guarantee. But it's a start.
It almost goes without saying that a pride flag on the wall is no guarantee that you'll be treated with respect. Likewise, you might not see any inclusion statements on a provider's website, but the staff in that office might be completely amazing and welcoming to folks of all identities.
At OUT Maine, we train personnel who work in medical practices and clinics around the state. The goal of these trainings is to help medical providers and office staff learn how to create inclusive, affirming and respectful spaces for LGBTQ+ youth to receive healthcare in their own communities. 
Want to learn more about what we offer? Click here to request more information about scheduling a training, or to request a copy of our FREE guide to making your workplace more affirming for LGBTQ+ folks.